Arugula salad and lime vinaigrette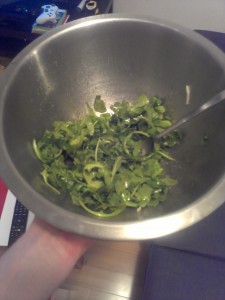 There's no recipe here, really. But you know what? Arugula is totally awesome with lime vinaigrette. And when I say vinaigrette I'm overstating the case considerably. I've always done this since my parents showed me how to skip the whole "beating oil and vinegar together" thing by serving salads this way for my entire childhood.
Washed leaves. Olive oil. toss to make all the leaves shiny. Then add salt, pepper, and acid. But if you've got lime juice in there with arugula as your greens? That'll make me really happy. Always. You know what I do when I need a starch in there, too? I get some thin, dry, Japanese wheat noodles. Often they're labeled as udon, but are a lot thinner than the ones you usually think of as 'udon'.
Cook those, chill them in cold water, and toss them in with that arugula and lime salad. It's awesome. Like I said, barely a recipe. But remember one thing for when you're tasting your salad for the balance:
Yes, it really does need more lime.
Food that you love
Whenever I make this it's so much more tart than any restaurant would ever serve. And that's a good thought to keep in mind about being a good home cook. Restaurants do wonderful things, but they can't cook it just the way you like it. They have to cook food that sells and keeps them profitable. So if you know what you like and how to make it, you can beat even a pretty good restaurant chef at pleasing your specific palette. That's fun. It doesn't hurt that my girlfriend loves arugula either.