Two quick cocktails
Since the hurricane, Jersey City's been a mess. At our house, we've got all our utilities back, but our friends haven't been so lucky. So our house has become a bit of a coworking space since the storm. As a result, I came home to two of my friends hanging out on the internet, and mixed them some drinks. They turned out well, and so here we are.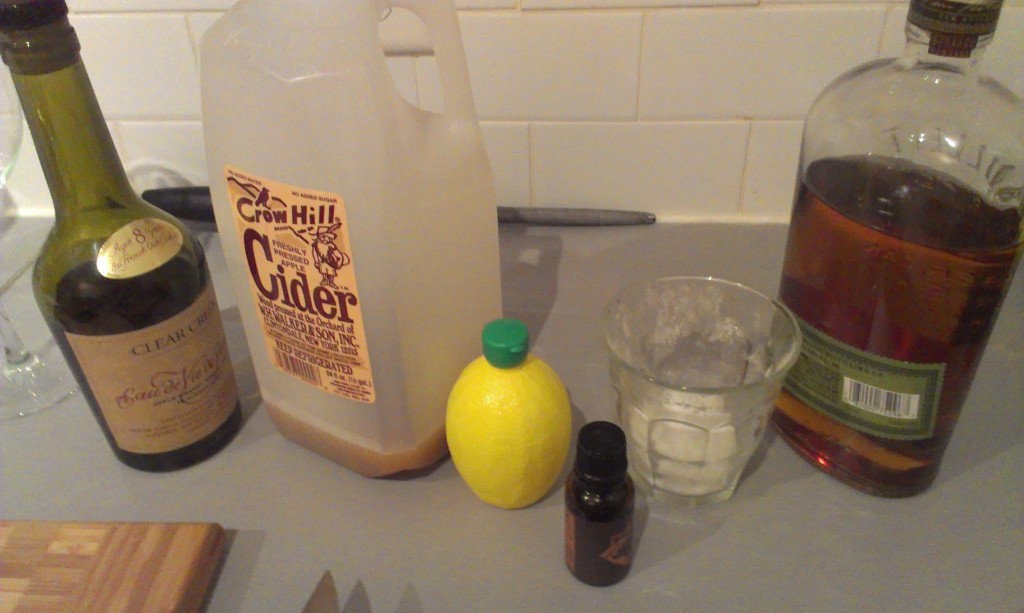 Double Spiked Cider
Just combine the ingredients in a glass. No shaking, gentle stirring, but you may as well just shake the thing a little. I suppose you could use real calvados, but I found a bottle of fairly inexpensive and very good Oregonian stuff that I'd happily recommend. The idea here is to create a spiked soft apple cider that still has a very apply taste. It's easy to lose the fruit when mixing with cider, but using the apple brandy, and adding the salt and lemon (like you do in pie) helps. Also the spice of this particular rye and this particular bitters help a lot. I know it's weird to not use any ice in a cocktail, but here I think it's appropriate.
20 grams Bulleit Rye (~1/2 oz.)
20 grams American Calvados (~1/2 oz.)
80 grams apple cider (~2 oz.)
tiny pinch of salt
tiny squirt of lemon
tiny drop of Bitter Truth Own Decanter bitters
no ice.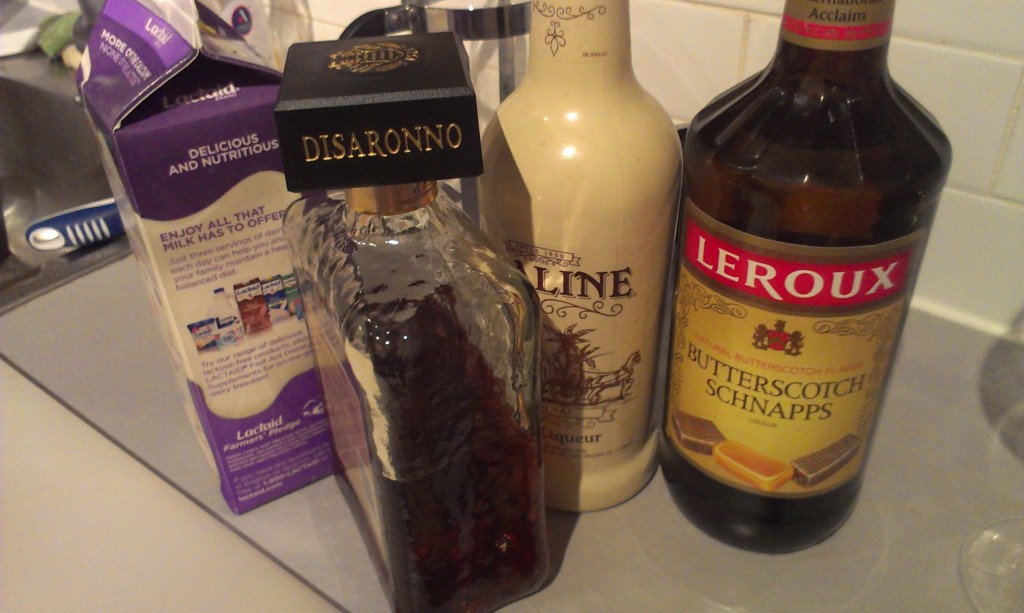 White Nutter
I didn't shake this one either, but it would go well enough shaken – milk always reacts with pleasant bubbles to that sort of thing. The flavor is very sweet, very nutty, and very creamy.
40 grams Disaronno (~1 oz.)
40 grams milk or lactaid in this case (~1 oz.)
10 grams butterscotch schnapps (~1/4 oz.)
5 grams Praline liqueur (~1/8 oz.)
an ice cube
Well, I think those are fairly tasty, and this blog post should certainly help me remember them. Now back to work..