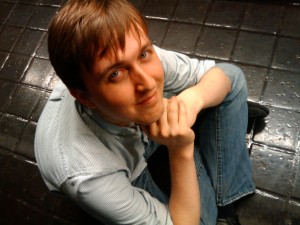 Kevin Clark is a composer and producer of creative projects of all kinds, a strategy and crowdfunding consultant, and Communications Manager at New Music USA. His music is obsessed with text, mixing sounds, syllables, and natural speech.
His film, The Seafarer, is an adaptation of his own work for acting cellist, which features Burton Raffel's translation of an Old English poem of the same name. The Seafarer has screened at the Garden State Film Festival, and is often used by teachers of Old English. His film of Cucumbers & Gin was his first Kickstarter project, and features a virtuosic solo violin performance. You can watch the film with the score underneath, and try out the cocktail recipes Kevin created for backers on his website.
Recent Projects include Poems Without Names, written for Rhymes With Opera and based on a poetic dialogue by Burton Raffel, and Summer's Twilight, a one-act adaptation of A Midsummer Night's Dream in development with Art House Productions. Kevin's most recent Kickstarter project was Ruckus NYC, a one-day conference and concert on art and the internet, that took place on September 29th at Cooper Union.
Kevin serves on the board of the Exapno New Music Community Center, which provides to its members space to compose, rehearse and perform in Brooklyn Heights, has spoken about crowdfunding at the National Arts Marketing Project Conference, and is a contributor to #24mag, a magazine made from start to finish in twenty four hours.
Kevin received his BM and MM in music composition from Peabody Conservatory (Pi Kappa Lambda), and his BA in Philosophy from Johns Hopkins University (Phi beta Kappa). His composition professors include Robert Sirota, Christopher Theofanidis, and Michael Hersch. While at Peabody, he created the Junior Bach program, in which student composers teach composition lessons at an inner city middle school for talented, low-income students. The pieces written in the program are premiered by Peabody musicians for the students of both schools. Junior Bach is now a credit-granting course, awarding a scholarship to one middle school composer each year.