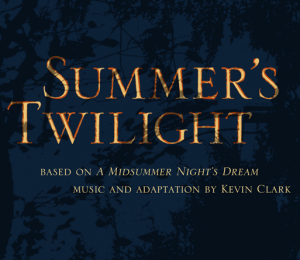 Summer's Twilight is an adaptation of William Shakespeare's A Midsummer Night's Dream. The piece tells the story of the four lovers, Lysander, Hermia, Demetrius and Helena, as their romantic troubles lead them out into the forest, where the fairy, Puck, and his king, Oberon, wait ready to meddle.
Part opera, part play, and part music-theatre piece, Summer's Twilight tells its story with arias and ensembles, as well as spoken dialogue, accompanied speeches, and text translated into wordless music. Puck is played not by an actor, but by a cellist. Oberon is played by a marimbist. They deliver their lines through their instruments without using their voices, and play at other times as instruments accompanying the action.
This first public workshop is scheduled for 2 PM on Saturday December 5th at the Brooklyn Heights Branch of the Brooklyn Public Library. It will feature the first half of the work, running about half an hour. There will be a talkback afterwards.
After the reading, I'll post some notes on how it went, and what the next step is. For the moment, here's the list of cast and crew – very talented musicians who have made a real commitment to help develop this material.
Helena – Erin Brittain
Lysander – Jason Buckwalter
Hermia – Elspeth Davis
Demetrius – Robert Maril
Puck/cello – Jody Redhage
Oberon/marimba – Ian Rosenbaum
Director – Rose Ginsberg
Video Recording – Michael Feldman, Alan Jeffries
Audio Recording – Zachary Herchen
Print Design – Victoria Nece