Greg Jukes and a new recording of Crystal Tresses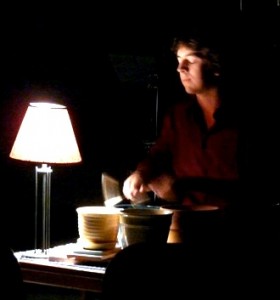 Today is my birthday, and Greg got me an awesome present. Today he's playing the vibraphone solo I wrote for him, Crystal Tresses in the Sky in Evansville. He commissioned the work a couple years ago, and played a couple times when we were both back at Peabody. He's gotten a bunch better at the piece since then, and he's promised a brand new recording which will be getting posted here as soon as it comes in.
Among other nifty birthday presents: flexy metal skewers for grilling whatever you want, a well-reviewed slicing knife for making super thin slices of roasts and things, and tickets to next year's Met in HD broadcasts at BAM! Awesome. Now, off to another lazy birthday brunch.