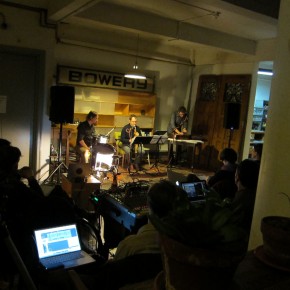 Tomorrow night, Sean-David Cunningham is going to perform Cucumbers & Gin live! After all our work on the Kickstarter campaign, on the recording, and on the film, it's easy to forget that you can also just go up to people and perform for them.
The concert's at the Exapno New Music Community Center, where I'm on the board. The show features Florent Ghys, the illustrious French bass player and composer whose website reminds me that I really don't know French very well.
Konrad Kaczmarek, Eleonore Oppenheim and Jascha Narveson are also on the program, with string loops, more double bass, and a toy piano. Exapno is a really interesting place, basically a co-working space for Brooklyn's thronging composers that also hosts rehearsals and performances for its members. It's a great resource for the field, and Lainie Fefferman is a fearless and tireless leader of the whole operation.
So come on out tomorrow night, hear some great music, and see if you might want to become a member of Exapno yourself! Here's the vital information:
Friday, May 13 – 9:00pm
Exapno New Music Community Center
33 Flatbush Ave – 5th Floor
Brooklyn, NY 11217
Gently suggested donation
Facebook Event