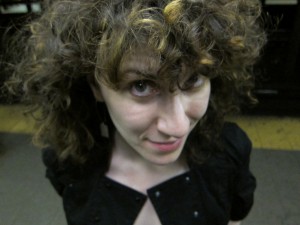 My last post, about the weird prejudice in technical fields that the arts are easy and artists lacking intelligence, got a great response. It's a difficult issue to talk about, and I'm glad that what I wrote hit home with some people. If I'm very lucky it'll make it a little easier for a few of the people who read it to talk about this stuff.
I'm particularly grateful to two people who pointed out weaknesses in my argument, Emily Kalish and Henry Kandel, and to Lainie Fefferman, who made it shorter. This discussion happened over on facebook on a couple different threads, so I thought it would be good to bring some of it over here.
Henry Kandel's point
Henry pointed out that I overreached significantly in one part of the argument. I could have just observed that in universities there aren't the mechanisms to wash so many students out of intro humanities courses as there to wash them out of technical ones. That creates a system that pushes people out of the sciences and into the arts. As a simple argument about how universities teach the point is clear enough: seeing that it's harder to get an F in freshman art history than in freshman calculus, people presume that the arts are easier than the sciences. Done.
The argument runs perfectly well that way, but I went and got my grubby paws all over the nature of creativity. That was very silly of me. I argued that it's actually impossible to tell talented from untalented students at 18 and 19. That's obviously wrong. I put this point next to an observation that writers tend to achieve stuff later in life than mathematicians. It probably also has something to do with the fact that good pedagogy in the arts involves a lot more encouragement and emotional support than people normally get in into chemistry. There may be something to all that, but it's completely useless to the argument and very difficult to defend. Out it goes!
Here's a link to the Facebook thread in case your account gives you permission to see it.
Emily Kalish's point
I spent the whole argument describing some of the lamer aspects of the relationship between artsy and technical people, and Emily did a great job describing some better parts of it:
To start with the obvious: not everyone thinks we suck. There certainly are many science-minded academics or profit-minded business people who feel that way, but there are also many people who look to artists with awe and envy because we spend our lives working on what we love, finding ways to reach people with what we most urgently feel the need to say, etc. Of course most of what we get paid for is not so lofty as all that, but even playing the most mindless gig, we're still "playing" and we're still making people happy! It's really pretty great.
Emily also caught me thinking in exactly the way I was saying we shouldn't think! Here's what I wrote:
In my post I jumped up and down on the idea that artists are dumb, but I also conceded too easily the idea that people who leave the sciences for the arts might be dumb too. I think that's a great place to tighten up the argument and make it clearer that what looks from the other side to be evidence of stupidity really isn't at all. Of course, there are dumb people in the world, and an account of how people pick fields has to make some allowance for what happens to them, but I agree with your criticism of the piece, and I definitely take it to heart.
In case you can see it, and would like to read the whole thread, here's the link. I'd recommend it – apart from everything else Emily has a great description of an artist's life as rewarding and exciting, if not always remunerative.
And Lainie sums up my whole argument in about two seconds
Lainie said this further down the same thread:
The main point that I hadn't thought of before, that I'm excited about, is more about the system than about the nature of the people who take part in it: it's easy to fail a math course, but I think often harder to fail a poetry course, even though both are demanding beautiful fields. I'd never thought of it that way, but I bet that's where a lot of people's prejudices come from.
Yup. That's basically it. This weird prejudice about artists probably has about 47 different causes. And like any prejudice it's really hard to think about clearly, and even harder to really fight.
But this difference in how US universities treat the training in technical and non-technical subjects seems to have something to do with it. There's almost certainly more to it, and I'd love to hear any other ideas for where this all comes from, especially if there are suggestions for how to deal with the attitude.
Lastly
Having spilled so much ink on this small prejudice today I really need to finish by saying that we have much more important prejudices to be fighting than this one. I think that's fairly obvious.