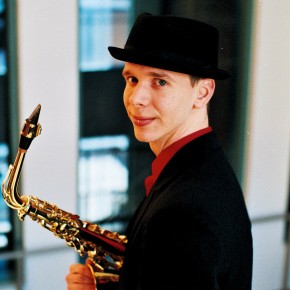 On Feb. 13th Ian Richter is going to be rocking the heck out of The Love Song of J. Alfred Prufrock, as he often does.
Churches in a lot of cities host short lunchtime concerts. It's a great way to make a cultural contribution and engage office workers in their neighborhoods. But in how many cities would you get a recital of multimedia contemporary saxophone works? That's why I love Baltimore (Woo Ravens), and one of the many reasons I love Ian.
Here's a recording of Ian doing the piece on his own senior recital at Peabody. Did I mention that Ian's also a fantastic recording engineer, and helped keep Ruckus NYC up and running? Fantastic guy. Go see his show if you're around Baltimore. And if you're not around Baltimore, drive.