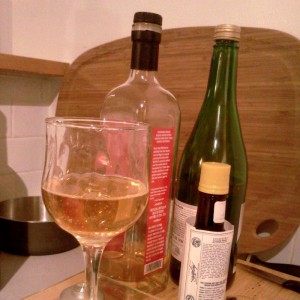 Why useless, you say? Well, how often do you get pear cider from Ikea AND Rogue whiskey? It is tasty though:
20 grams Rogue whiskey
80 grams Ikea pear cider (I suppose another, better cider would be fine, too)
splash Angostura aromatic bitters
Just put them all in a glass and stir. Ice if you want it.
It's got a little whiskey bite that goes pleasantly with the pear. We already knew whiskey and fruit go together. You could try with any other fruit cider or any other whiskey, but there's another reason I reached for the Rogue.
Rogue is mostly known for beer, and their whiskey is made from the same yeast that they use for all of their beers. Yes, they use the same strain for all their beers; and they also use it for their whiskey. If you know that, when you drink the whiskey you wind up thinking of a fairly sweet, malty beer. Sweet, malty beer you say? Don't a lot of fruity beers use that kind of beer as a basis?
Yes they do, which is why I thought Rogue would work particularly well with fruit. I added the angostura because the combination was still a little flat and needed some lift. I didn't use enough to get the stronger flavor of the bitters clearly into my mouth, though that could be fun, too. I might add a tiny bit of lemon juice next time or an even tinier bit of salt to finish the balancing job. Add sugar to that list of lemon and salt and you'll have, probably, the right tools to adjust the drink's balance to other whiskeys or pear ciders.
The resulting drink has an aroma of malt, a distinct but not overpowering pear flavor, and some whiskey heat. Fun, but largely a useless cocktail recipe.