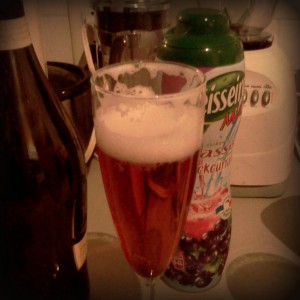 I didn't realize until I started writing this post that I might have to worry about the gender of the adjective in the name. I probably screwed it up.
Anyway.
We know about the kir royale: creme de cassis (made from blackcurrants) and champagne. But we've started buying this blackcurrant concentrate/syrup/squash from our favorite local wine shop, Madame Claude Wines, and realized it makes a pretty good kir. But as it's just a syrup, not a liqueur in its own right, we've decided to call it a kir bourgeois. I don't even really care if I got the gender wrong. That only makes it more bourgeois, which is fine by me.
And it's really tasty.