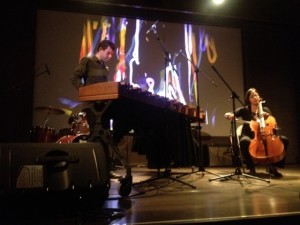 We're coming up on two weeks since Ruckus NYC. After recovering from a computer failure, we can begin work on the conference videos and concert footage. Also in that time we've been paying artists and speakers $50 each. With almost three dozen people involved, we're very proud to be able to pay even this amount.
Also, we were planning to play the music of Florent Ghys in between sets during the show, and a fault prevented that. Florent's music is amazing, and he would have been onstage if he hadn't been injured. Head to his website, listen to what he's got going on, and buy many of his CDs. it's worth it. Here's the backer update I posted on Kickstarter the day after the first Ruckus NYC:
Thank you. A million times thank you. Yesterday was amazing, and you made it happen. Ruckus NYC was filled with smart discussion, practical advice, and the detailed experiences of artists in the new economy. I don't know anyone who didn't leave inspired by the discussion. It's tweets like this one that remind us why we gave two months of our lives to make this happen.
The evening concert had it all – films, comedy, and a ton of different music from amazing performers in so many different styles. One backer, not an artist himself, said that he was glad he'd heard all of the different acts, and that he would never have heard any of them by himself. Another backer has spent the day listening to everything our musicians have available online.
We didn't just talk about audience development yesterday, we did it.
I want to specially thank Zach Herchen and Ian Richter, two saxophone playing recording engineers who sound checked nine acts in two hours with patience, competence, and a lot of sweat. Thank you. We all owe you one.
Thanks to your support, we have more than $1500 to use to pay artists. Paying artists is incredibly important to us. Thank you for making it possible. If you want to see where your money is going, you can look at every detail of our budget.
Above is a photo of New Morse Code playing last night, with live animation being projected behind them by Nick Fox-Gieg. You can see more photos and tweets on our Splash That page, including ink paintings of the show by Janet Brusselbach. You can watch the low res video of the concert right now on livestream. High quality edited videos of each act are coming, but that's a lot of work, so you'll have to sit tight.
If you want to continue our discussion about artists and their careers, talk to us on twitter or tumblr. We care about this stuff, and we're not stopping.
Ruckus NYC was amazing. Once again, thank you for making it happen.