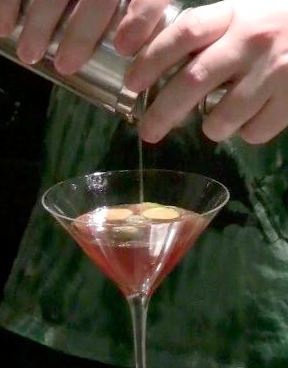 I'd like to announce the first cocktail recipe for the backers of Cucumbers and Gin: Dr. Ueno's wild thing. Ken Ueno was our very first backer and, knowing the sophistication of his palate, I knew we'd have to come up with something special.
Ken requested something spicy, and something with Hendricks gin, which is already heavily flavored with cucumbers. What we created is a twist on the Bloody Mary, but with fresh tomatoes and dried chilies. Here's the recipe, with detailed instructions to follow:
Dr. Ueno's Wild Thing
-1.5 oz. Hendricks gin infused with cucumbers and dried chilies
-1.5 oz. peeled seeded and diced tomatoes
-a dash of Worcestershire sauce
-three ice cubes
-sliced English Cucumbers for garnish
-tomato caviar for garnish (optional)
Shake the gin, tomatoes and worcestershire with ice, and pour into a martini glass over the tomato caviar and sliced cucumbers.
This is perhaps the most fussy and detailed cocktail we created, and it's also one of my favorites. Let's start with the gin. Just wash and chop up some cucumbers, and let them sit in the Hendricks for a while. For this cocktail, add plenty of dried chilies as well. Chiles de árbol work well. Infusing for about an hour should be enough, but if you want it spicier, let it go longer.
Second are the tomatoes. We're going to get both the seeded, peeled and diced tomatoes and the tomato caviar out of one tomato. It's a little tricky. First, in order to peel your tomato, do this. Now cut it into wedges. Then cut the bits attaching the outer flesh of the tomato to the center, and peel off the outer layer (I haven't seen a good video of this online yet, sorry). This will leave you with the tomato caviar – the seed pod – which you can cut away from the center and clean off a little. Put this in the bottom of the martini glass, along with the sliced cucumbers: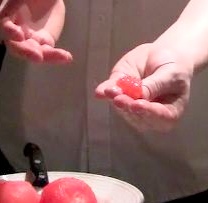 Take the outer flesh of the tomato, and dice it fairly small. Put 1.5 oz. of the diced tomato into the shaker with the ice, Worcestershire sauce and the infused gin. Then shake the cocktail and the tomatoes will be pulverized, both flavoring and thickening the drink.
The finished cocktail should be quite cold, red from the tomato, freshened by the infused and sliced cucumber, spicy from the chilies and with a little bit of umami from the Worcestershire sauce. It's a clean twist on a classic cocktail.
My brother, Dennis, and my best friend from kindergarten, Orlando Klass, helped out with the experimentation. Both are knowledgeable eaters and drinkers, and enthusiastic experimentalists. Over the next few weeks I'll continue to post the recipes we created for our backers, counting down to our recording session, which will be in late March. If you test out the recipe, let me know the results in the comments!