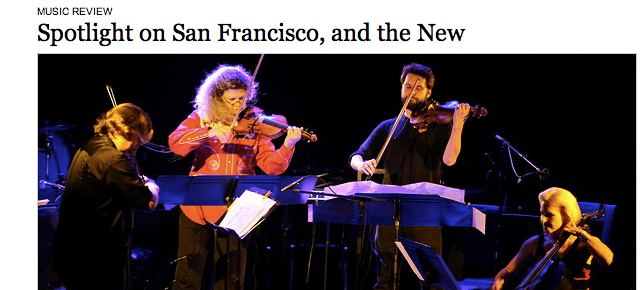 So, my day job is to run the MTC Studio, which we launched last November at Meet The Composer. Since before that I've been working with six fantastic composers to commission new works to premiere on our festival, the Three City Dash. We're two concerts in, with one to go – tomorrow at the Morgan Library & Museum. It's been a long couple of months, and I've got one more extremely long day to go, but before it's all over, I wanted to share the NY Times review of our second concert, last Monday at Le Poisson Rouge. It even started off with a generous description of the MTC Studio itself:
Meet the Composer has always been devoted to making new music user-friendly by commissioning works and having the composers on hand to explain them to audiences. Now the organization is reconfiguring itself, and it has come up with a twist: instead of merely using its Web site to promote performances, it is staging a small festival to promote its Web site, or a section of it.
It makes sense. The new Meet the Composer Studio, at mtcstudio.org, is meant to put a spotlight on young composers and their music and to encourage new-music fans to contribute toward commissioning new works. In the studio's current version, six composers are featured, two each from Chicago, Boston and San Francisco, and would-be patrons are offered memorabilia ($5 postcards, $25 autographed CDs) or commissioning credit ($5,000 to be listed as lead commissioner).
Needless to say, tomorrow I'm buying a couple copies of the paper, in between producing a monster concert just on this side of technically possible.