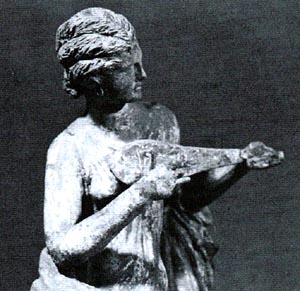 Which is, for those of you keeping score at home, bad form. Write in the morning. Use that first burst of energy to do the work you care about most. And by energy I do mean caffeine. Save the bills, chores, Finale entry and associated drudgery for when you're exhausted, your juices have run out, and you've got Downton Abbey on in the background.
But I'm at a strange place with this piece, and swamped with everything happening in my life right now, so I'm letting myself work late tonight, albeit equipped with an old-fashioned.
The piece is called Poems Without Names – and it sets a poem by Burton Raffel, who translated The Seafarer from Old English. It's meant to be about five minutes, and I'm doing it for Rhymes With Orchestra, which is a new orchestral side to the lovely Rhymes With Opera organization, run by George Lam and some other good friends from Peabody. Poems is going to be premiered on March 17, so it's a good thing I haven't written a note of it yet. George and I cooked up the idea on December 30, at my New Years Eve-Eve Party. He's got a lute and a saxophone in the orchestra, and I've got this poem that Burton Raffel sent me a while ago that has two characters: a living poet and a dead Roman poet. How about I pair the sax with the living poet, the lute with the dead one, and give you five minutes of music? Sound good?
A lot of people make strange decisions at parties. I don't think many of them involve the lute. Now I have one in my house, lent to me by John Orluk, the fabulous and patient lutenist for this piece.
Poems Without Names, or PWN for short, at full length takes about half an hour to read aloud. I've timed it. I'm cutting it down considerably for this performance, and hope to be able to re-expand it at a later date. There are a few discussions on the nature of art, and one love poem from the dead Roman that I would dearly love to turn into a set piece song in this version, but there just isn't time – either in the piece's intended length or for me to write it.
You said a strange place with this piece?
Yes. I've got a strong cut of the poem done. I have the basic tectonics of the story settled. It's time to start moving into a map that involves more music. I'm a very top-down composer. I don't take a motive and expand it into a piece. I take a story or an idea and look for what elements I need to tell that story, on down from the mission of the piece to the individual note. Once I know what the dramatic moment requires from the piece, I rarely revise. If I don't like a passage of music, it's usually because I've mistaken the intention of the moment.
It's sort of like an actor asking "What's my motivation?" when they've given a lackluster performance. I could push notes around, but I'd rather grab hold of the tree holding them up and move that – more effective that way.
I'm not totally sure what I'll be doing to the text tonight, probably tweaking the words a little more, probably imagining dramatic beats and sonorities and maybe, if I'm lucky, sketching out a melody or two. Then it'll be back to the shape of the piece, the development of the characters, and then back to the music.
Should be fun….