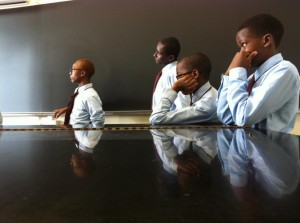 One of my proudest accomplishments is the creation and institutionalization of the Junior Bach program at Peabody. In it, Peabody composers teach middle school students from the St. Ignatius Loyola Academy, and prepare them for the first world premieres of their lives. The Academy itself is Jesuit, and draws its students, all boys, from the Baltimore City school district based on a combination of high test scores and participation in the free or reduced lunch program. The school provides its students with a stunningly complete education, and helps shepherd its students through high school and into college. There are a fair number of Jesuit all-boys schools like this in cities around the country. Mother Caroline Academy in Boston is the only all-girls school like this I know about – and my mother helped it get off the ground.
The Junior Bach program began as a volunteer student project. I looked at some of the community service work we'd been doing and thought, "we're musicians, surely we can do better than painting a wall." And we did. This sort of project is remarkably well suited to conservatories. You give the composers involved internship credit for teaching the lessons and supervising the performances, you ask for one afternoon of rehearsals and one concert from some of your student musicians, and you can really change people's lives. The work ties the conservatory to the community in a meaningful way, and conservatory composers gain meaningful teaching experience which helps them advance in academia.
Making It Last
Part of my work was to get the program started, but a lot of student projects at universities shine while the student who created it is there to run it, and then disappear. Once we'd got it going, the important work was getting Peabody to make it a permanent part of the school. Professor Stephen Stone took over the program from me, with support from then-Dean Eileen Soskin and Chair of the Composition Department, McGregor Boyle. After a few years running it, Steve handed the program off to Judah Adashi this year, who's making even more improvements to the impact and sustainability of the program.
From where I am in New York, I don't have anything to do with the program anymore – but I do get to see what they're up to in Baltimore. Judah's got the internet involved. He's got a twitter feed going, a facebook page, and just today he's finished uploading the last of the pieces from the December concert to the Junior Bach YouTube channel. Love it.
These videos show you seven world premieres from last December, and one video from the first day of class:
[youtubegallery]
[/youtubegallery]