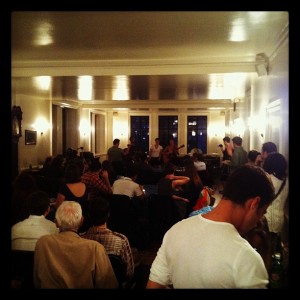 That went beautifully. Not that I knew it would. Rhymes With Opera put on a fantastic show last night, and it was just the way I like it. It was a great big party.
There was food, there was wine, there was a staggeringly relaxed atmosphere, and there were these amazing musicians onstage playing extremely unusual and difficult music with about six seconds of rehearsal time, and it was amazing. It all came together.
My big piece for the show, Poems Without Names, was supposed to be 5 minutes, clocked in at 21, and after the 15 minutes of rehearsal we had I was terrified. The tricky moments weren't quite together, the ensemble hadn't quite grasped what I was doing with individual notes underneath and between words of poetry – I was scared.
But thanks to the truly frightening talents of these amazing musicians something happened between 6:30 and 7 last night. And it just worked. They got up there and told a story.
We've got a solid recording and some shot-for-YouTube video, and when I can get everything together I'll post it on the blog. But for now, trust me, it went wonderfully.
And oh yeah – String! Robert and Elisabeth tackled a song that I wrote for Twenty-Four Magazine, with an unusual backstory to do with erasing most of a play and sleeping very little. But the song sounded great, and very soon we'll have a real recording and a real video to share with the backers of Twenty-Four Magazine's Kickstarter project.
Everyone knows that there are six people in the new music world, and only about 500 or so in the actual world, forever running into each other in cafes in Vancouver (I think that's Neil Gaiman's image), but a lot of them turned up at the show last night. Two Princeton friends with giant decade-long gaps in our friendships were there, as well as my cousin Matt, who has practically tripled in size since I saw him last, and who has moved to New York.
It was a wonderful night.
Keep watching this blog (or my Tumblr, Twitter, or whatever else) for audio and video from the show, as well as the final clips and videos from the Ruckus Amongstus, which happened in January at Exapno.
To everyone who worked on the show, came out to the show, or just wondered how it was going from far away, and especially to Burton Raffel, author of Poems Without names, thank you.