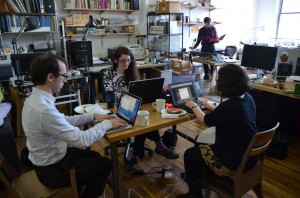 But not quite.
Last Thursday a bunch of us started making a magazine from scratch in twenty-four hours. We didn't sleep. We invented strange things and threw them together and hoped the turned out. I wrote two songs and an article that made it into the final magazine. It's actually quite strange to write music on a deadline intended not for performance but for publication. Obviously I'd love to see the music performed sometime soon, but knowing that the goal was a print deadline made it a rather strange experience.
My first song, String, is a setting of some text that Elissa was creating by erasing almost all of the words from a play, and leaving just certain bits she liked. It was wonderful, but since it was about 30 pages of what looked kind of like Cummings with extra space, it didn't get printed in the final article. I just set the first section, and the song wound up being two pages long for soprano and piano.
The article I wrote is a continuation of the work I'm doing on this blog, writing about the future of the arts economy. In it I talk about my own history learning how to handle social interactions in my work, and about how "everything becoming social" has some sneaky downsides to go with its broadly inclusive effects.
My second song is a theme song for Rose Fox, our copy chief. She did an amazing job turning people into better writers than they normally are. It was an amazing experience and I wish people did that for composers, too. But when she came over to talk to me about one of my drafts she said "You don't have an ending yet. That's kind of my theme song for the night." To which I said, "okay." And then I wrote her a goofy theme song about how she says you don't have an ending yet to your article. The song itself doesn't have an ending, just a long repeat.
Over at the magazine's website you can buy the print or digital versions, and you can get a peek at the extraordinary amounts of extra digital material we created, basically documenting our gradual descent into madness and creativity.
It was a magical experience shared with brilliant people and I'm still not recovered from the sleep debt. Hopefully I'll be okay by tomorrow.