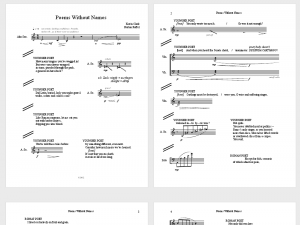 I've never done this with a piece before, but I'm doing it now. I finished Poems Without Names last night, and emailed the score off to the performers and the poet, Burton Raffel. I really hope he likes it.
What I'm doing is this:
Here's the full score of Poems Without Names
Let me know what you think. Do you like the poem? Can you follow the score without scratching your head too much? What do you think of the whole saxophone and lute combination?
And more than that, come out on March 17 and hear what Rhymes With Opera does with the piece:
Rhymes With Opera Salon
7 PM, Saturday March 17
Christ Church United Methodist
520 Park Avenue, New York, NY
FREE ADMISSION
Late Update: response from Burton Raffel
Who, you know, wrote the poem.
Dear Kevin,
Wow.

I usually run through my email, just before I go back to writing for the day. But I went waltzing right through your extraordinary piece, unable to stop. It has been so long since I wrote the long poem, and I have been working so hard at my prose and (in translation) the poems of Dante, Chaucer, and the unknown author(s) of El Cid, that I find myself astonished that I in fact wrote this! You've edited beautifully: you don't have a thing to apologize for. I can't go to the piano and pick out some shades of your music: my fingers (no thumbs!) allow me three or four minutes, every second or third week, and sometimes simply refuse to let me have any keyboards time. So I look forward to hearing it, in due time.

Wow again: you make the poetry come across infinitely more impressive than I expected. Muchas gracias!

Oh yes: on p.21, after the word "louse," I think you want a comma rather than a period. Yes? No?
Of course he's right about the comma.