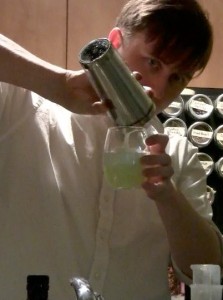 Greg put us over the top on December 13th, and to a great extent he's still largely a mystery to us. His Kickstarter profile lists him only as Greg D., but also shows him to be a prolific supporter of a huge range of creative projects – they're really quite fascinating if you want to check them out. For Cucumbers and Gin, his pledge came out of the blue, and put us over our $750 goal almost two weeks early. When you start a project on Kickstarter you hope to encounter people like Greg, and we were so lucky he came our way.
When I asked him about his taste in cocktails he told me his favorite is the caipiroska. It's a variation of the caipirinha, but with vodka instead of cachaça. We decided to use the sweetness of the caipiroska, but not some of the other strong flavors that could easily overwhelm the cucumber. What we created is a variation on the ramos gin fizz.
The Greg Fizz
-1.5 oz. cucumber infused Hendricks gin
-0.5 oz. cucumber juice
-0.5 oz. cucumber simple syrup
-1 oz. soda water
-1 egg white
Simply put all the ingredients into a shaker with plenty of ice, and shake vigorously. Be sure to remove any strainer before pouring your cocktail into the glass. Pour carefully, letting the foam through but keeping the ice behind.
Again we've gone back to our cucumber-infused Hendricks as a base for the cocktail. Cucumber juice we've already discussed, but cucumber simple syrup is a new ingredient. I found a lot of how-to videos online for this, but a lot of them have ads, or are just irritating. For simple syrup you dissolve equal parts water and sugar over heat. For cucumber simple syrup you just put some chopped cucumbers in there, too. Having cucumber three times – in the gin, in the juice, and in the simple syrup – doesn't actually give you a stronger cucumber flavor, but it does give you a very clear mild cucumber flavor. You can drink the finished cocktail like candy; the egg white foam in particular takes a wonderful flavor.
Shaking vigorously with ice is the key to the foam. Be sure to be careful pouring out the cocktail into your glass (that's me in the photo up there, maybe focusing a little too hard), as egg white foam won't really go through the screens on top of some shakers. Also, to enjoy the full Greg Fizz experience I'd suggest a glass with some height, or an interesting shape; it helps focus attention on the egg white. Enjoy.