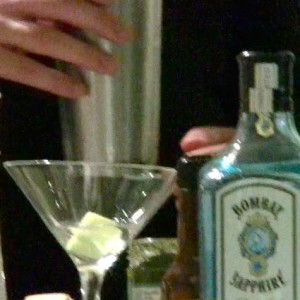 Mona Seghatoleslami is a lovely viola player and a very old friend. We took music theory together in high school and climbed trees and talked about The Love Song of J. Alfred Prufrock. Now she lives in West Virginia and is a classical music public radio personality. I think once she even interviewed my old composition professor from Interlochen.
For her cocktail Mona requested Bombay Sapphire gin, which is super aromatic. It's fantastic gin, but the flavor is so distinctive that it's actually quite hard to mix well into a cocktail. So basically we decided not to; we played with the standard cucumber martini to dress up the presentation and clean up the flavor.
Mona's Martini
-1.5 oz. Bombay Sapphire gin
-1 cube of cucumber
-dry vermouth to soak the cucumber
-splash of cucumber juice
Soak the cube of cucumber in vermouth in the martini glass for several minutes, then pour out the vermouth around the cube of cucumber. Stir the gin gently with an ice cube until chilled, then pour over the vermouth-soaked cucumber. Add the splash of cucumber juice.
This recipe is much simpler than Dr. Ueno's Wild Thing. In fact, the only tricky bit is the cucumber juice itself. We use this in several recipes, so be sure to remember this one. Wash and roughly chop some English cucumbers into large pieces, then puree them in a food processor (blenders or stick blenders or food mills should work, but will be a bit trickier to manage). Then strain out the pulp from the liquid in a fine mesh strainer. That's it. For this recipe you only need a splash, as you can see, but it's very easy to make and quite useful for the other recipes we've created.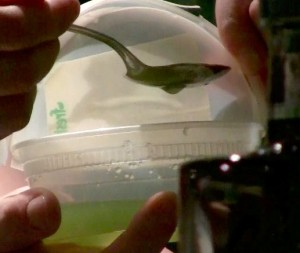 Mona's Martini is a very dry cucumber martini, featuring the unique flavors of Bombay gin, and has a fresher cucumber flavor than you usually get in a cocktail bar, as well a nifty presentation. Enjoy.