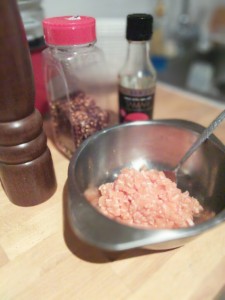 Before I make any salmon main course, I make this tartare. I love raw salmon, I love how it tastes with soy sauce, and I do not have the wherewithal to confidently cut my own sashimi and still have the rest of the fish be nicely shaped portions, so I do this.
Chopped raw salmon
Tamari (not regular soy sauce)
Red Chili flake (pepperoncino)
Ground black pepper
When you get the salmon, trim down the fish into decent portions for your main course. Use the trimmings for tartare, and if you're skinning the fillets, you can usually get some meat back from the skin, too, unless you're better with a knife than I am and don't leave any. If you don't have enough trimmings, take a slice of fillet for tartare before you portion the fish. Don't just take the belly as it's too fatty, and makes a greasy tartare.
Chop up the fish – I like trying for 1/8″ dice so there's still some shape and texture to the fish, and it's not just a pile of goo. But piles of goo also taste good, so play with it.
Then add Tamari to taste (the fish should turn noticeably browner in color, but there shouldn't be any sloshing around in the bowl either; use your discretion and taste frequently). Don't use regular soy, the nuttiness from the darker sauce will make a big difference. Then throw in a pinch of chili flake and finely ground black pepper to taste (coarse is a bit weird texturally in this). The color contrasts great with a white bowl, and if you've got some bits of herb, chives or cilantro would be very pretty.
It's delicious, it's easy, and it's the flavors of salmon sashimi without the knife skills, and spicier. Nom.
The best part is that you've got a second salmon course in about five minutes, and apart from the actual chopping, all your knife work you needed to do anyway to portion the fish. Plus you get nicely trimmed fillets without throwing anything out. I have a lot of recipes that involve getting two dishes out of the same protein, and this is the first half to all of the ones I do with salmon.
Afterwards I might sear and pan roast the fillets with crispy skin, or poach the fish, flake it with butter and salt, and turn it into a sauce for gnocchi or pasta. Salmon as pasta sauce is a great trick, by the way.