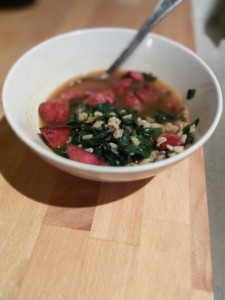 Stupidly easy recipe. Throw about a third of a cup of unwashed rice into a quart or so of chicken stock. Simmer it until the rice is done, and throw in a couple kind of bashed up but practically whole garlic cloves. Throw in a chopped up bunch of chard (that's the blette), and cook it down a little.
Season with salt, pepper, about a tablespoon of grated parmesan, zatar (if you got it), a splash of soy, and a splash of fish sauce (you should have it). I like it with the chipotle sauce that Tabasco makes, or, if you're really hungry, a whole fried chopped up chorizo.
I thought it would need some lemon, or some lime juice, but it didn't. Chard usually needs the acid, and so do soups with fish sauce, but this didn't.
So easy. So tasty. And easier to make than a bunch of chard is to clean.